Power System Studies
EPS is a one stop shop for all protection requirements and power system studies, including design and commissioning. We are an ETAP Solution Partner and have been specifically selected by ETAP for our skills, knowledge, and resources to provide outstanding engineering solutions. EPS employs experienced Chartered Engineers and Electrical Power Consultants with a proven background in all industry types. Our Quality Assurance Policy certified to ISO9001 ensures that our work complies to strict quality standards.
Clients who select EPS can feel confident that our company can provide comprehensive solutions for clients from concept to installation.
EPS provides technical and product solutions to some of the largest and most highly complex projects internationally for ageing, high value & critical assets. Our technical experience and product solution range covers all industry markets such as offshore oil & gas, petrochemicals, wind farms, biomass plants, power plants, manufacturing, power distribution, energy storage, micro grid technology and power generation.
Our services include:
Load flow & short circuit analysis
Protection grading and co-ordination studies including protection system audits
Transformer inrush energisation studies
Transient Motor Starting
Power Flow Optimisation
Harmonic analysis
Transient Stability and Load Shedding
Arc flash energy calculations
Power Management Studies
Reliability & contingency analysis
G99 Grid Connection studies
G99 Grid Code Compliance Studies
CLICK HERE to email your enquiry
Typical projects include:
Generation AVR and governor modelling for transient analysis
Routine switchgear fault level surveys
Fault level and earth grid dimensioning for remote facilities
Motor starting studies for integration of new compressors
Transmission and distribution system analysis
Electrical distribution protection analysis
Risk assessment of live cable burial
EPS has undertaken many power system studies for:
Petrochemical plants
Pharmaceutical plants
Manufacturing facilities
Process plants
Offshore platforms & FPSO's
Transmission & distribution networks
Renewables projects wind, biomass & solar
All work is performed to DEP, IEC and ANSI or other appropriate standards as required. The combination of our network modelling software, ETAP, and our experience provides EPS with a unique capability to provide clients with bespoke analysis solutions. Get in touch to find out how we can assist you.
Engineering Power Solutions uses the most powerful, latest engineering software on the market providing stand-alone power system studies designed to answer seemingly simple questions:
How do I increase the reliability of my system?
Is the protection of my system properly co-ordinated?
How much further can I expand and optimise my current system without major investments?
CLICK HERE to email your enquiry
Short Circuit Analysis
This is the most basic power system study. It creates a model of the electrical power system and analyses currents under fault conditions. The model includes all sources of electrical power (such as utility connections and generators), as well as any component that reduces fault current (transformers and cables, for example). A complete model makes it possible to calculate different types of fault currents at each location in the system. Examples are:
The minimum fault level for setting protective devices
The maximum fault current for verifying existing or selecting new equipment
Knowing the exact fault level and comparing it to equipment capabilities can locate problem areas, reduce costs when selecting new equipment and establish the limits for adding new generators. The study results and findings are presented in a report that includes input data of the constructed model and tables with calculated values.
Protection Co-ordination Studies
A coordination study combines the results of a short-circuit analysis with the properties of protective devices such as relays and fuses. It demonstrates how individual devices respond to fault currents and reveals their ability to discriminate between faults that should be interrupted and those that should be handled by smaller devices downstream.
With a protection co-ordination and grading study, the following is evaluated for each protective device:
Operation on minimum fault current
Ability to interrupt the maximum possible fault current
Prevent spurious outages due to inadequate protection grading
Co-ordination with upstream and downstream protective devices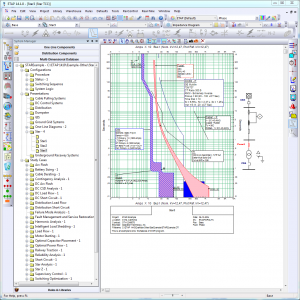 A co-ordination study ensures that protective devices will have optimal settings that properly protect the system against fault conditions. At the same time, it offers selectivity: a fault will only disrupt the part of the system where it is located, whereas the rest of the system will be able to continue functioning as normal. The study will result in a report that includes a short-circuit analysis, an overview of recommended settings and a graphical representation of device time-current characteristics.
Transient Stability Analysis
Transient stability analysis enables engineers to accurately simulate power system dynamics and transients via system disturbances and other events. ETAP Transient Stability leverages detailed and validated equipment & protection characteristics, controls models and user-friendly graphical user defined modeling together with advanced algorithms to perform analysis for industrial to transmission power systems.
EPS has completed many transient stability studies including:
Generator start-up or black-start simulations for offshore platforms and vessels
Transformer Inrush Analysis
Grid Code Compliance & Analysis
Evaluate motor dynamic acceleration & reacceleration impact upon power restoration (brown-out)
Short & long-term transient simulations for manufacturing plants
Transient Stability Software Disturbance and Events
Power Flow Optimisation
This analysis is useful for renewable energy plants, manufacturing and oil&gas production to solve power system load flow, optimise system operating conditions, and adjusts control variable settings, while ensuring system constraints are not violated.
An optimized system will reduce the installation and/or operating cost, improve overall system performance, and increase its reliability and security. The program also provides a variety of other choices of optimization objectives, which covers virtually all the optimization criteria for a real power system:
Minimise system real & reactive power losses
Minimise generation fuel costs
Minimise system energy costs
Maximise system performance
Minimise load shedding
Minimise generator fuel cost or heat rate with different cost models & fuel profiles
Control generator's MW (governor) & MVAR
Size capacitors within the specified limits
Determine control settings
Harmonic Analysis
With an increase of electronic power components being integrated into existing and new power system networks we are finding more and more issues, failures and spurious trips synonymous with harmonics. With the Harmonic Analysis we can simulate harmonic current and voltage sources, identify harmonic problems, reduce nuisance trips, design and test filters, and report harmonic voltage and current distortion limit violations.
G99 Grid Code Compliance
We provide all grid and distribution code compliance studies for any international requirement (including ENTSO-E requirements) for synchronous or non-synchronous plant. We have completed over 100 grid connection design & studies and therefore understand the results that the utility companies are looking for. If non-compliance becomes apparent, then we can propose design modifications or recommend a course of action to resolve the issue, including supporting discussions with the utility / system operator. Examples of the studies we provide for planning, design and grid connection of conventional and renewable plants (such as PV plants or wind farms) include:
Full grid connection impact studies
Grid code compliance studies
Availability and curtailment studies
Load flow studies
Fault level studies
Contingency studies
Transient stability analysis
Voltage fluctuation analysis
Harmonic assessments
Design, management and independent due diligence for grid connections include:
Connection infrastructure design and design reviews
PPA and contract review, management and negotiation studies
Specifications and tendering
Due diligence
Contact us and click sales@engineeringpowersolutions.co.uk for a quotation to undertake power system analysis whether its an onshore or offshore power system network. Our experienced Chartered Power System Engineers will study your quotation request and may also provide you tips for cost savings.