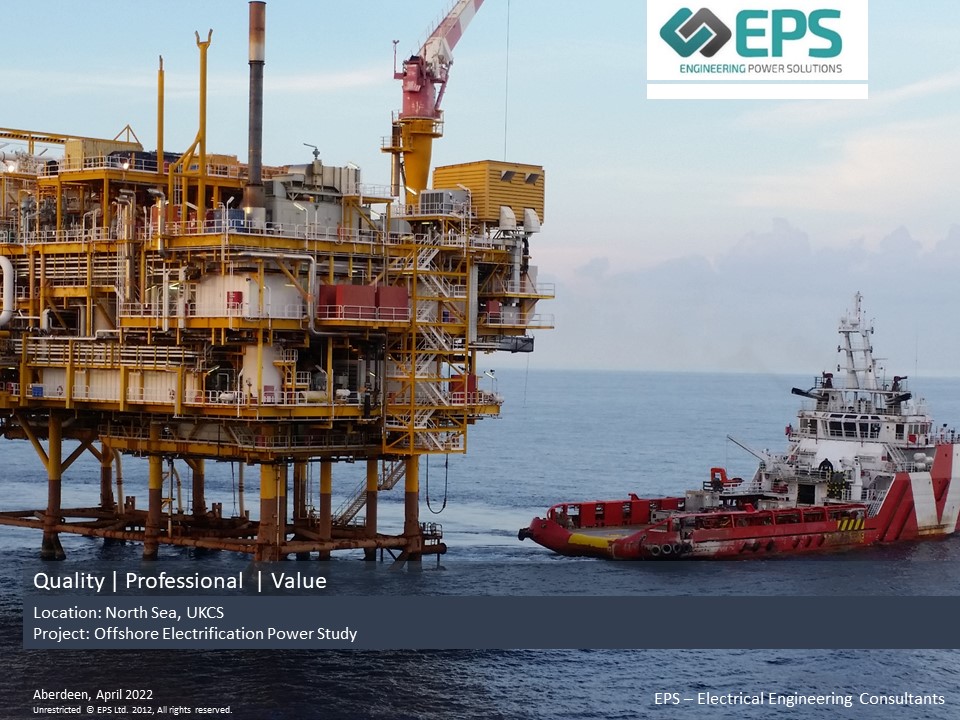 Electrical FEED Studies For Offshore Electrification (Oil Platforms and FPSO's)
Electrical Front End Engineering Design (electrical FEED) is an important approach to engineering design, adopted before procurement and construction to plan a project in detail and manage costs prior to submitting a tender package to vendors. Electrical FEED is highly cost-effective: in studies, although electrical FEED has accounted for approximately 2 percent of the total project cost, up to 30 per cent of design and construction costs have been reduced. Electrical FEED is usually carried out after the initial feasibility study (the pre-electrical FEED stage) or conceptual design has been completed. 

Typically, an electrical FEED study will include:
The creation of technical documents.
Confirmation of product specifications.
Clarification of the scope of the project.
An estimation of the likely cost of the project.
The Benefits Of An Electrical FEED
What benefits can you expect if you commission an electrical FEED study prior to commencing your project?
Understand The Project's Technical Requirements.
Without an incisive understanding of the technical requirements of your project, it's likely that the end solution will miss the mark considerably. An Electrical FEED gives you an objective overview of your project goals, so that you can select the technologies most suited to the desired outcomes, increasing the chance of securing a successful end point.
Prepare The Project Approach.
Having determined the feasibility of the project in the pre-electrical FEED stage, the electrical FEED survey will consider the key question 'how will the project be implemented?', taking into consideration all relevant information to deliver a safe and successful bid.
Control Expenses.
Electrical FEED studies provide accurate project specifications, so it is less likely that you will deviate from the scope of the project or the agreed solutions. This will help to control costs, both at the project design and implementation stage, and in the long-term, as the resultant solution will meet your business's needs more acutely while providing more cost-effective outcomes.
Reduce Risk.
Electrical Front End Engineering Design studies streamline pre-project planning, enabling you to establish the scope of your project's needs. With this aspect of your project clearly defined, you can identify the most suitable solutions and technologies, increasing the likelihood of a positive Return on Investment (ROI) and anticipating the potential pitfalls you may encounter.
Estimate The Project Duration.
Electrical FEED projects are usually fast-track, often under a year in duration. Therefore, delivering it safely in such a short time frame requires careful planning, which the electrical FEED survey will help to secure. Accurate time planning supports optimal cost-efficiency and delegation of people and resources, particularly during the detailed design phase when any errors are likely to impact negatively on the outcome of the bidding process.
Electrical FEED Front End Engineering Design From EPS
EPS has a long history of providing conceptual designs and FEED studies in harsh North Sea environment. If you require an electrical FEED study for your project, our Chartered Engineers can help. At EPS, we work to IEC, BS, and ENA standards to deliver electrical Front End Engineering Design studies that are grounded in technical expertise and extensive industry experience – giving you confidence that every element of the project has been carefully considered.
To find out more about our technical consultancy services, please get in touch.