Power System Studies
Our electrical system analysis and consultancy services draw upon our excellent knowledge in conventional oil & gas and non-conventional renewable energy consultancy, installation and operations and maintenance. Our services include:
Generation AVR and governor modelling
Routine switchgear fault level surveys
Fault level and earth grid dimensioning for remote facilities
Motor starting studies for integration of new compressors
Transmission system analysis for 33kV connected offshore platforms
Electrical distribution protection analysis
Risk assessment of live cable burial
All work is performed to DEP, IEC or other appropriate standards as required. The combination of our network modelling software, ETAP, and our experience provides EPS with a unique capability to provide clients with bespoke analysis solutions. Get in touch to find out how we can assist you.
Engineering Power Solutions uses the most powerful, latest engineering software on the market providing stand-alone power system studies designed to answer seemingly simple questions:
How do I increase the reliability of my system?
Is the protection of my system properly co-ordinated?
How much further can I expand my current system without major investments?
Power system studies can take many forms and investigate every aspect of your power system including:
Transformer energisation studies
Transient Motor Starting
Harmonic Analysis
Examples of which are a short-circuit analysis and a protective device co-ordination study:
Short Circuit Analysis
This is the most basic power system study. It creates a model of the electrical power system and analyses currents under fault conditions. The model includes all sources of electrical power (such as utility connections and generators), as well as any component that reduces fault current (transformers and cables, for example). A complete model makes it possible to calculate different types of fault currents at each location in the system. Examples are:
The minimum fault level for setting protective devices
The maximum fault current for verifying existing or selecting new equipment
Knowing the exact fault level and comparing it to equipment capabilities can locate problem areas, reduce costs when selecting new equipment and establish the limits for adding new generators. The study results and findings are presented in a report that includes input data of the constructed model and tables with calculated values.
Protection Co-ordination Studies
A coordination study combines the results of a short-circuit analysis with the properties of protective devices such as relays and fuses. It demonstrates how individual devices respond to fault currents and reveals their ability to discriminate between faults that should be interrupted and those that should be handled by smaller devices downstream.
In a co-ordination study, the following is evaluated for each protective device:
Operation on minimum fault current
Ability to interrupt the maximum possible fault current
Co-ordination with upstream and downstream protective devices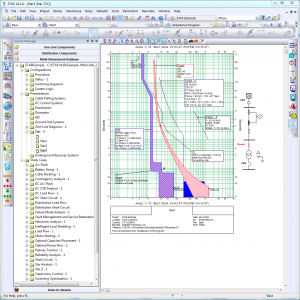 A co-ordination study ensures that protective devices will have optimal settings that properly protect the system against fault conditions. At the same time, it offers selectivity: a fault will only disrupt the part of the system where it is located, whereas the rest of the system will be able to continue functioning as normal. The study will result in a report that includes a short-circuit analysis, an overview of recommended settings and a graphical representation of device time-current characteristics.
Contact us at enquiries@engineeringpowersolutions.co.uk for a quotation to undertake power system analysis whether its an onshore or offshore power system network. Our experienced Chartered Power System Engineers will study your quotation request and may also provide you tips for cost savings.